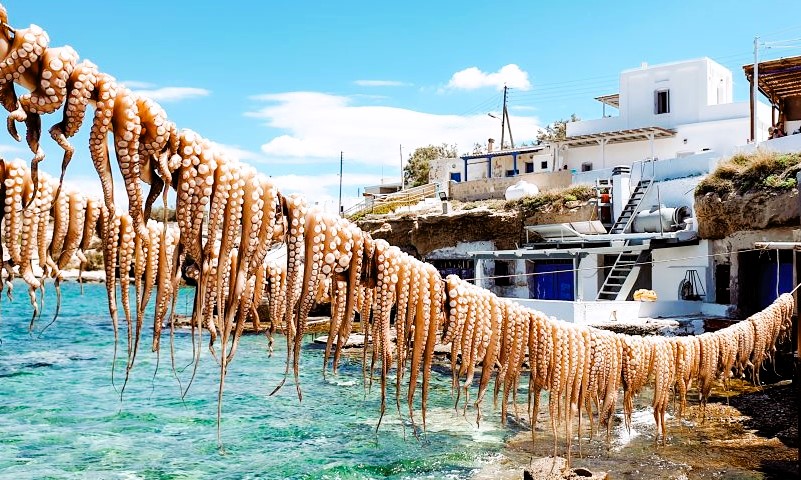 Hi there, this is Riris Papatsarouchas, owner of A La Mer – Milos boat rentals, and in this article, I am sharing with you information about the top 5 Milos restaurants and taverns to visit and enjoy Mediterranean and international cuisine, while on the island.
Milos, a charming Greek island is not only known for its breathtaking beaches and picturesque villages but also for its vibrant culinary scene.
From traditional taverns serving authentic Greek cuisine to upscale restaurants offering innovative dishes, Milos has something to satisfy every palate.
In this blog post, we will guide you through MY top five restaurants and taverns on the island, where you can indulge in a memorable dining experience.
Medusa Cafe – Restaurant Milos (Mandrakia)
Experience the Unforgettable Medusa Cafe – Restaurant on Milos Island. Escape to Milos Island and discover the enchanting Medusa Cafe – Restaurant.
With a focus on Greek tradition and exquisite cuisine, this seaside gem delights with simplicity and exceptional flavors.
From sustainable practices to seafood masterpieces, Medusa earns its place among the island's top choices.
Indulge in a gastronomic feast, share memorable moments with loved ones, and savor the essence of Greek-Milos' culinary excellence at Medusa Cafe – Restaurant.
A visit to Medusa Cafe – Restaurant promises more than just a meal; it's an invitation to embark on a culinary journey like no other. With its idyllic seaside location, commitment to local ingredients, and dedication to preserving Greek-Milos' culinary heritage, Medusa guarantees an unforgettable dining experience.
Milos Restaurant: O Yialos (Pollonia bay)
Welcome to Yialos, a culinary gem nestled in the heart of Milos island's picturesque Pollonia. With a legacy spanning 17 years, the restaurant has cultivated a reputation for embodying love and care in every aspect of its philosophy.
At Yialos, they take pride in serving the freshest fish and offering the highest quality cuisine. Indulge in a tantalizing array of raw dishes, gourmet options, and traditional delicacies, all carefully crafted to satisfy even the most discerning palate. Their Aegean cuisine, infused with a gourmet twist, will take you on a culinary journey that nourishes not only the body but also the soul.
What sets Yialos apart is its idyllic location, allowing diners to enjoy their meals right in front of the sea, with breathtaking sunsets painting the sky. Patrons can immerse themselves in the serene beauty as they savor the culinary delights, creating an unforgettable dining experience that feeds both the senses and the soul.
Fresh Fish Tavern – Restaurant in Milos: Astakas – A Culinary Gem (Klima)
Nestled in the charming village of Klima, overlooking the waves and next to the vibrant "sirma" fishing huts, lies the renowned Astakas restaurant. Since 2016, it has made a bold statement in Milos' culinary scene, specializing in fish and seafood dishes sourced mainly from local fishermen.
Prepare to be amazed by the exceptional flavors at Astakas. Their carpaccio of sea bass with fish roe, seaweed, and sesame oil is a true delight. Pair it with a perfectly grilled sea bass fillet accompanied by a creamy Kakavia puree, and you're in for a culinary experience like no other.
Don't miss their tender grilled sardines served with a medley of vegetable delicacies, including celery, onions, tomatoes, and olives.
Astakas takes pride in showcasing the freshest ingredients from the island's waters, expertly prepared to elevate your dining experience. With a menu that celebrates the bounties of the sea and a commitment to supporting local fishermen, it's no wonder that Astakas has become a must-visit destination for food lovers on Milos Island.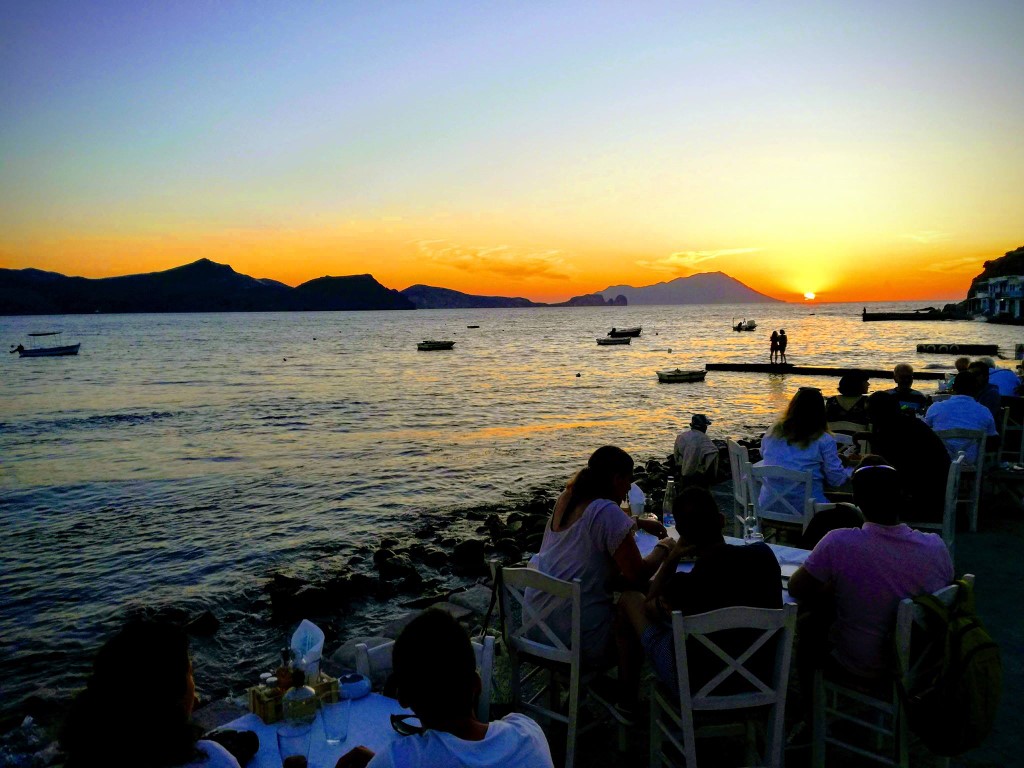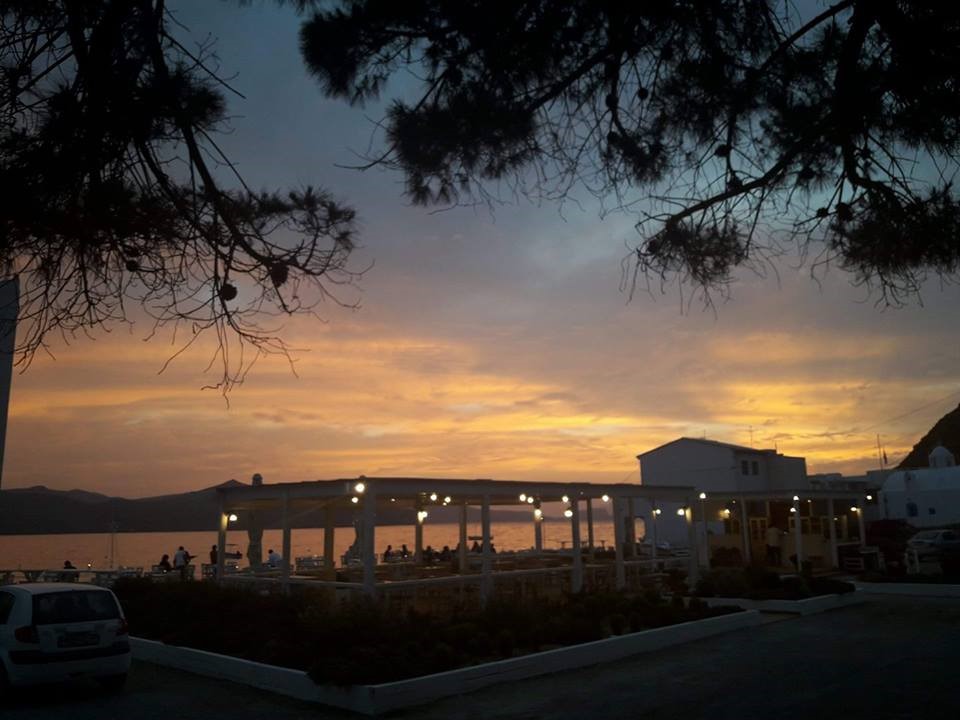 O Mikros Apoplous Restaurant (Neochori, Adamas Port Milos)
With a view of the beautiful port of Milos, the picturesque seaside restaurant captivates every visitor with its rich and imaginative flavors.
You cannot resist the abundance of tastes, with the highlight being the daily offering of fresh local fish, carpaccio, and ceviche made from fresh sea bass, as well as the unique, secret recipe of the Apoplous sauce.
Pasta with seafood or lobster, grilled dried mackerel, and fish soup complete the "canvas" of culinary delights.
Empourios: A Hidden Gem in Milos
Tucked away in a quaint coastal settlement, Empourios is a family-run taverna that captures the essence of Milos.
With their own goats and lambs, they craft mouthwatering dishes with skill and care.
From tantalizing vegetarian options like zucchini balls and tomato balls to traditional pitarakia and dakos with sour myzithra cheese, every bite is a delight.
Immerse yourself in the serene ambiance, savor the flavors, and experience the warm hospitality of Empourios.
Which Restaurant in Milos will you Eat at?
Milos is not only a paradise for beach lovers and adventurers but also a culinary haven where you can delight in exquisite flavors and traditional Greek hospitality. 
From seaside seafood feasts to authentic taverns serving time-honored recipes, the island offers a diverse range of dining experiences.
Embark on a culinary journey through Milos and savor the unforgettable tastes that will leave you with cherished memories of this remarkable Greek island.