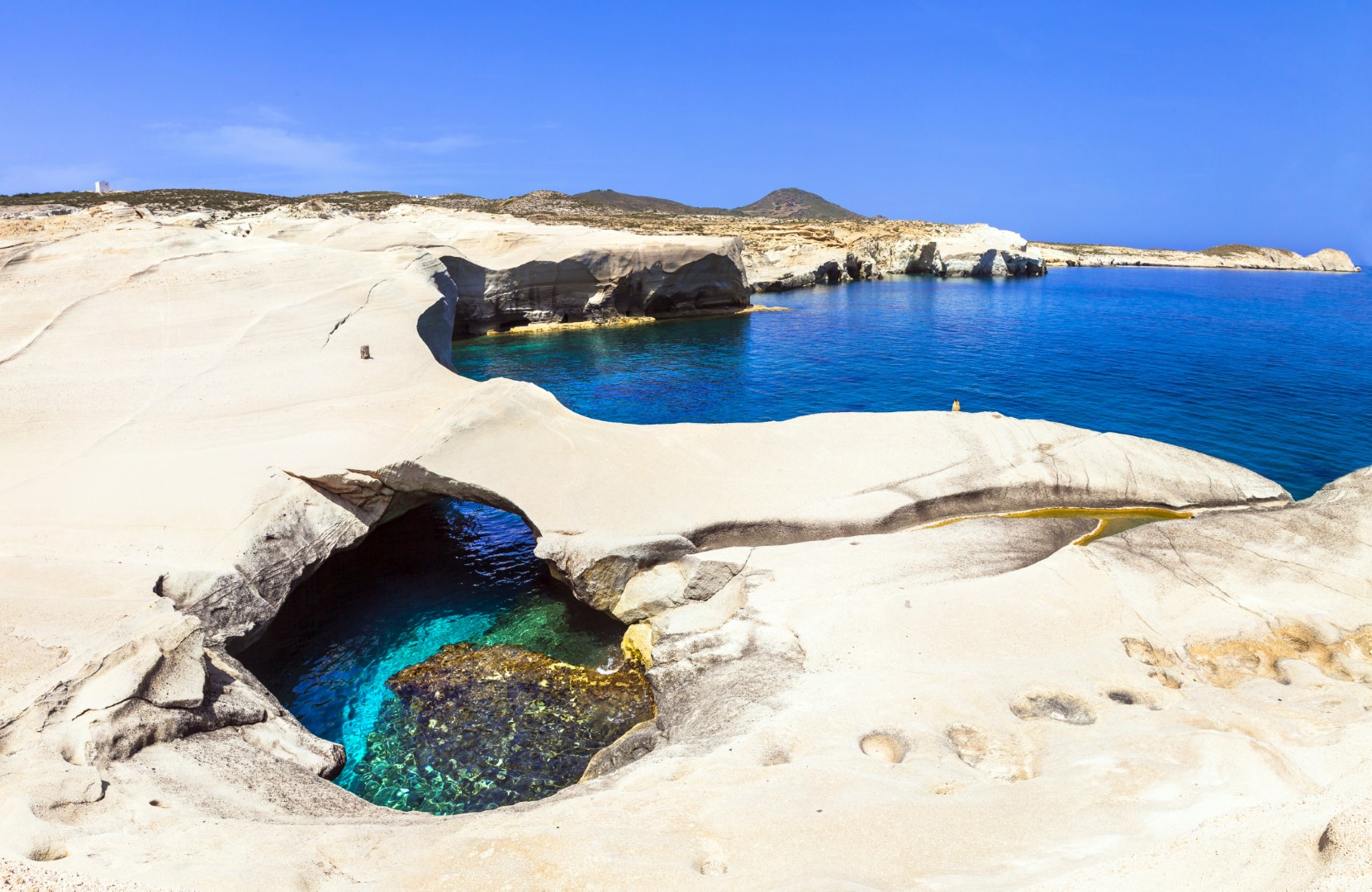 Best Beaches in Milos Greece: My Top 5!
---
Planning to visit Milos this summer and looking for the top beaches to swim and enjoy various sea activities, like Milos water sports? This article presents a personal selection of the best beaches on the Greek island to make the most of your summer vacation.
Milos boasts an amazing coast and boasts some of the finest beaches in the Cycladic group, known for their unique, breathtaking beauty and clear, crystal waters.
Milos, a volcanic island, boasts stunningly colorful beaches with unique rock formations, making for an ideal location to spend a day by the sea. The island is also filled with small coves and numerous caves to explore.
Milos has an abundance of beaches, with Sarakiniko being the most renowned. This distinctive beach features abrupt white rocks, making it a lunar-like landscape and one of the most impressive beaches globally.
This author's top 5 favorite beaches in Milos are only accessible by boat (excluding Sarakiniko), and include: Firopotamos, Tsigrado, Firiplaka, Triades, and Papafragas, among others. They have been to the island several times over the years and have selected these as their favorite spots.
#1 – Sarakiniko
Sarakiniko beach is named after the Saracen pirates who sought refuge in its caves and tunnels, hiding both themselves and their treasures. It's a standout beach in Milos, known for its unique beauty and often considered the island's signature attraction.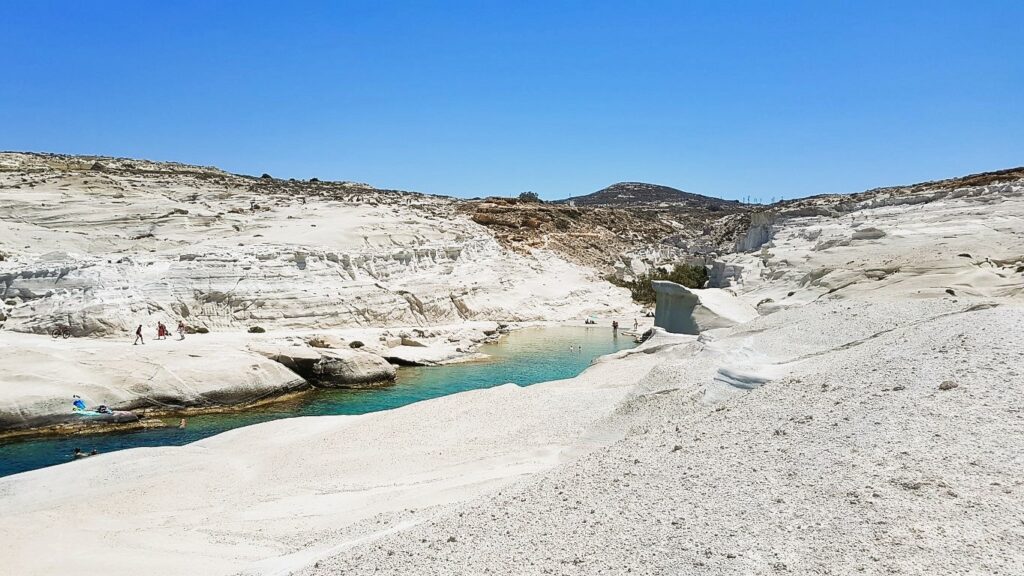 Sarakiniko is widely regarded as one of the world's most beautiful beaches due to its unique geological features.
It can be found on the northeast part of Milos and boasts a breathtaking landscape with white, smooth rocks that have been shaped over time into unique, harmonious structures.
The beach is also characterized by its sounds, produced by the sea's erosion of the shoreline's small and big hollows.
Fossilized seashells over a million years old have been discovered on its rocks.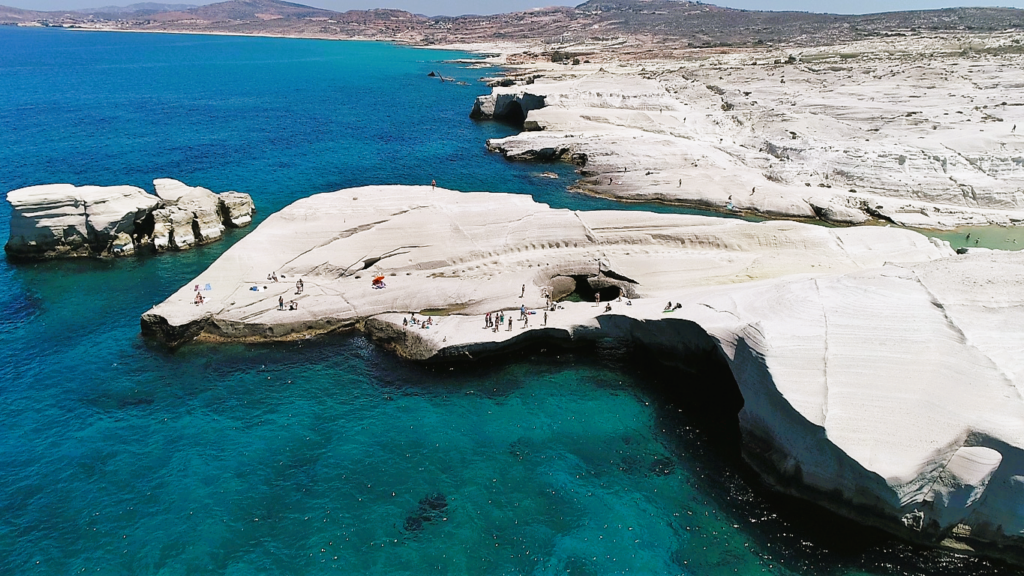 Sarakiniko boasts an eye-catching white hue that contrasts beautifully with the crystal-clear blue and turquoise waters.
Swimming in these vibrant waters is a must-do and you'll have ample opportunities to take a plunge from the rocks if you dare.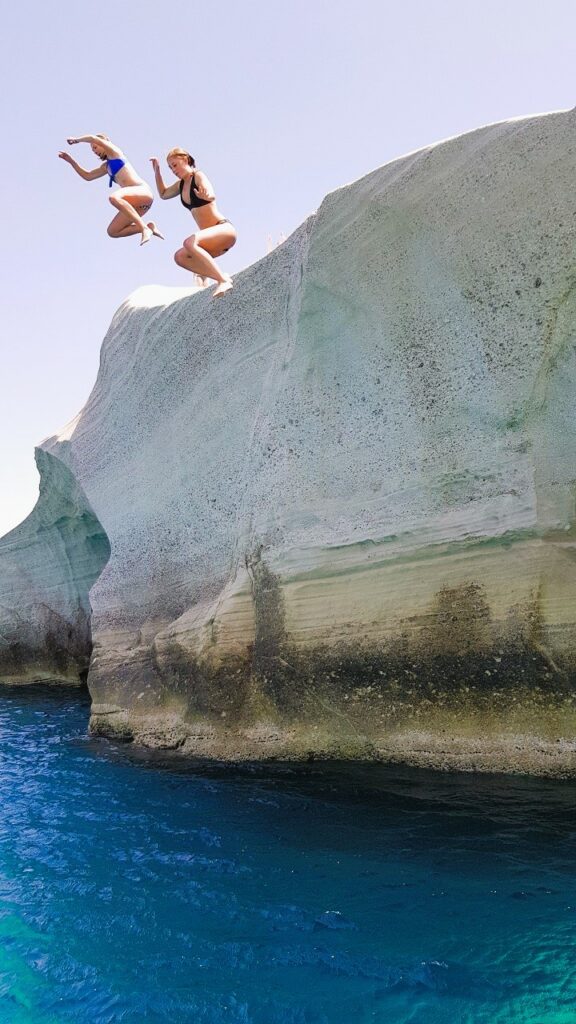 Snorkeling is a must-try activity in Sarakiniko. Around 100m southeast of the beach, you can free dive near the shipwreck of the "Africa" tanker, which sank in 2003 and is mostly submerged in shallow waters up to 8m deep.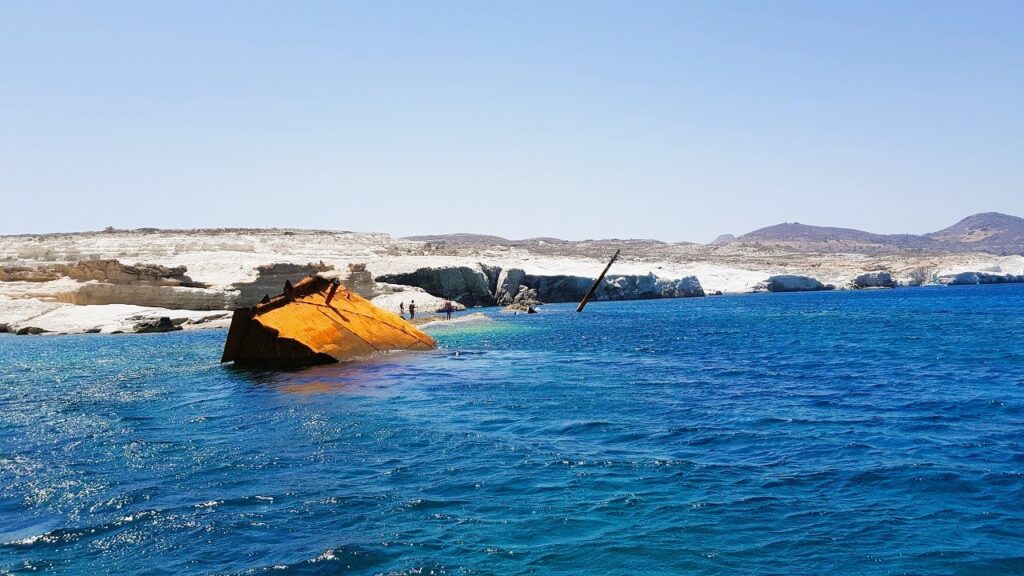 The ideal times to visit Sarakiniko are early morning and late afternoon, as the white rocks reflect the sun and make the area too hot to be enjoyable during midday.
#2 – Kleftiko
Kleftiko beach is known for its striking rock formations. It's considered to be one of the most awe-inspiring geological wonders created by nature. Many tour boats on the island stop at Kleftiko during their excursions.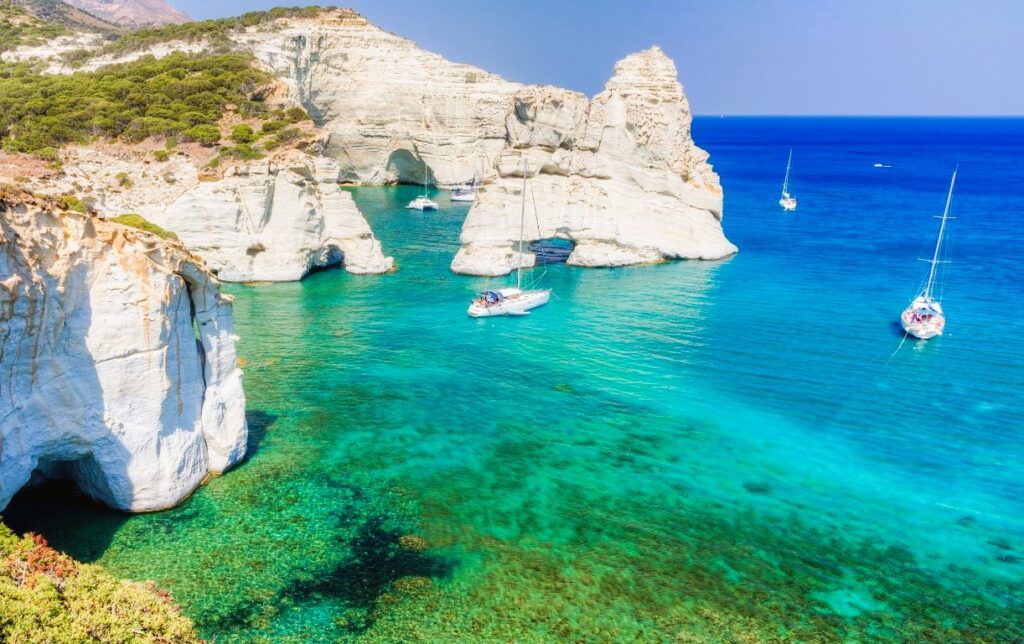 Located in the southwestern corner of Milos, Kleftiko is a must-visit site renowned for its towering rock formations and natural caves.
It can be reached by boat or by foot via a hiking trail. This geological wonder is often compared to Meteora and is a popular stop for excursion boats touring the island.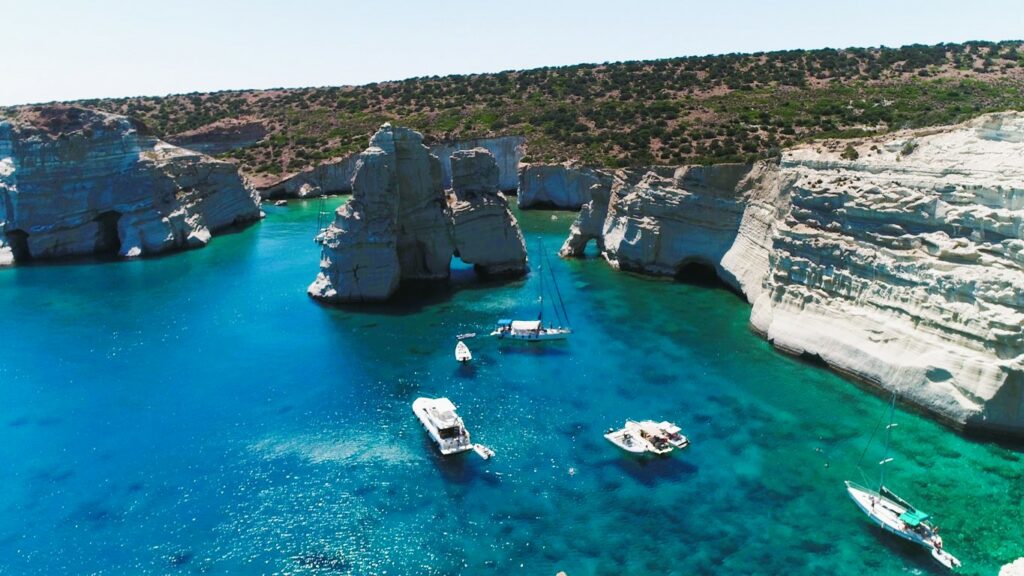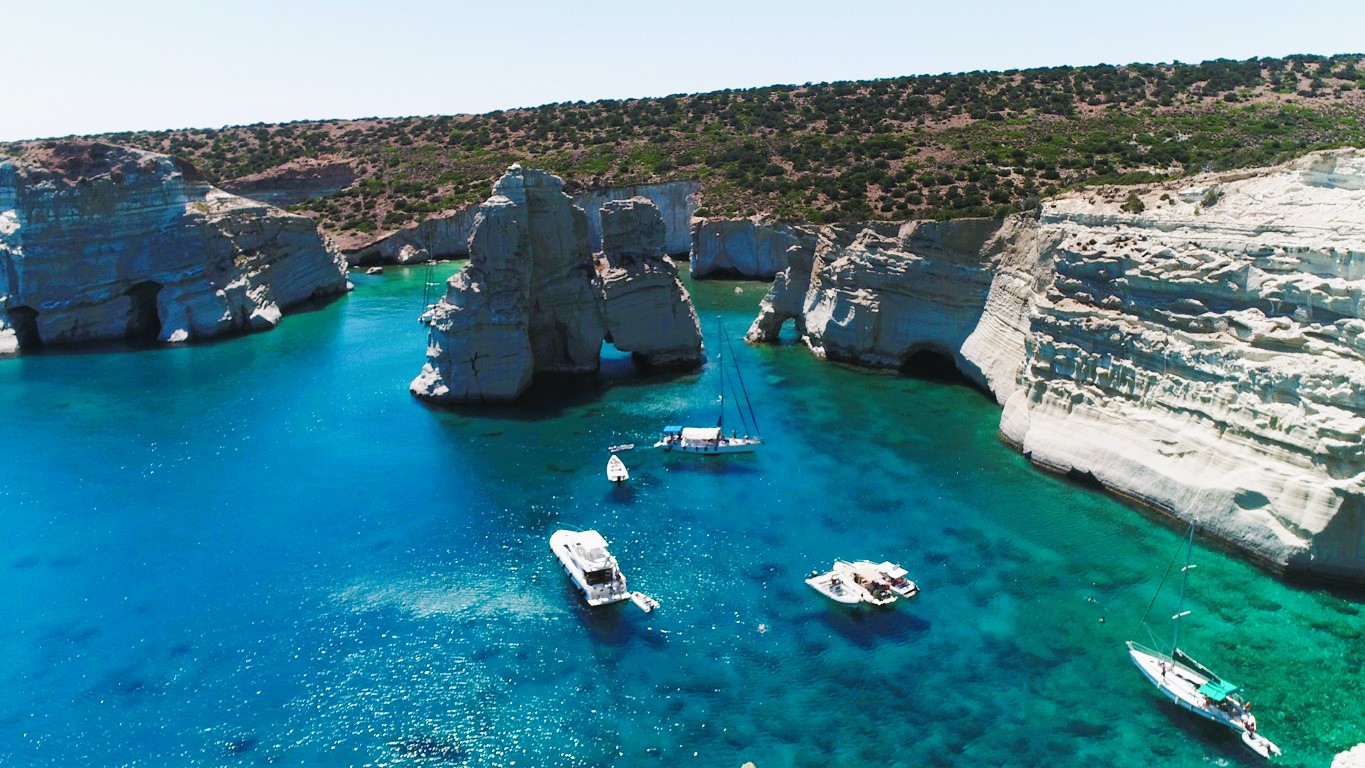 According to legend, Kleftiko served as a secret refuge and port for pirates. The striking rock formations, natural arches, secluded coves and protective cliffs explain why. Despite efforts to locate pirate treasure, it remains undiscovered.
Kleftiko's crystal clear waters are ideal for swimming and snorkeling, making it a truly unforgettable experience.
#3 – Gerakas
Gerakas is a remarkable place, featuring stunning rock formations and vast sandy inclines that extend to the summit of the nearby hills. It is situated in the southern central area of Milos and can only be accessed by boat.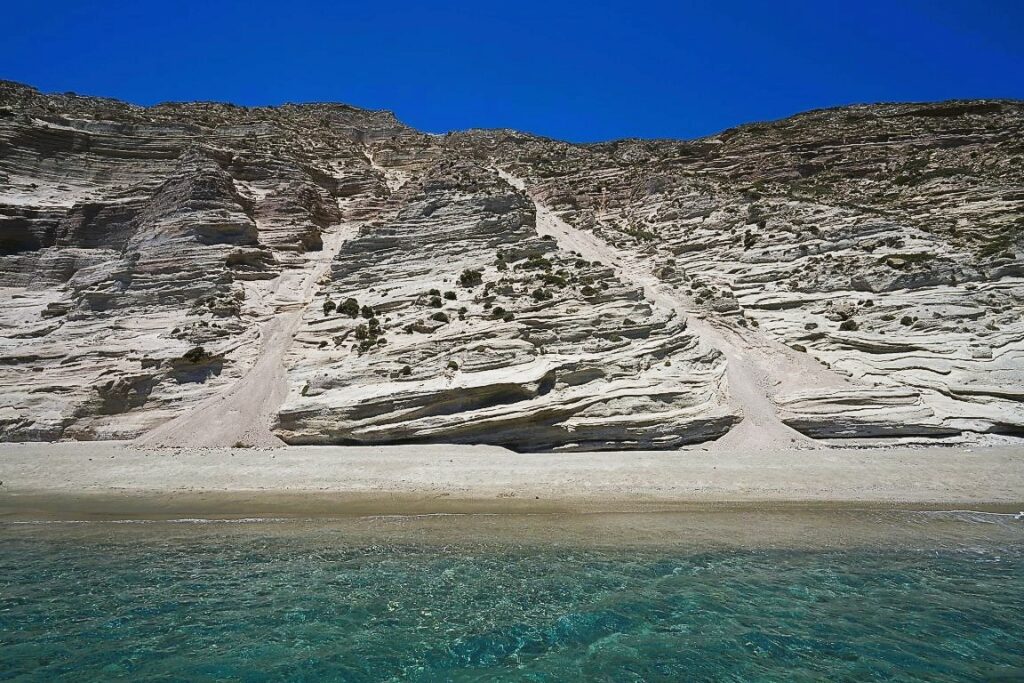 Gerakas boasts a unique sandy beach with tiny pebbles that visitors love to walk on, experiencing the soft sensation underfoot. The panoramic view in every direction is stunning, and the crystal-clear turquoise water is eye-catching.
Upon arriving by boat, the beauty of the sea and the surroundings is sure to leave you spellbound. The optimal way to enjoy this breathtaking location is with a snorkeling adventure.
#4 – Gerontas
Gerontas, located in the southwestern part of Milos just before Kleftiko, is a gem with untainted, wild natural beauty that appeals to nature enthusiasts.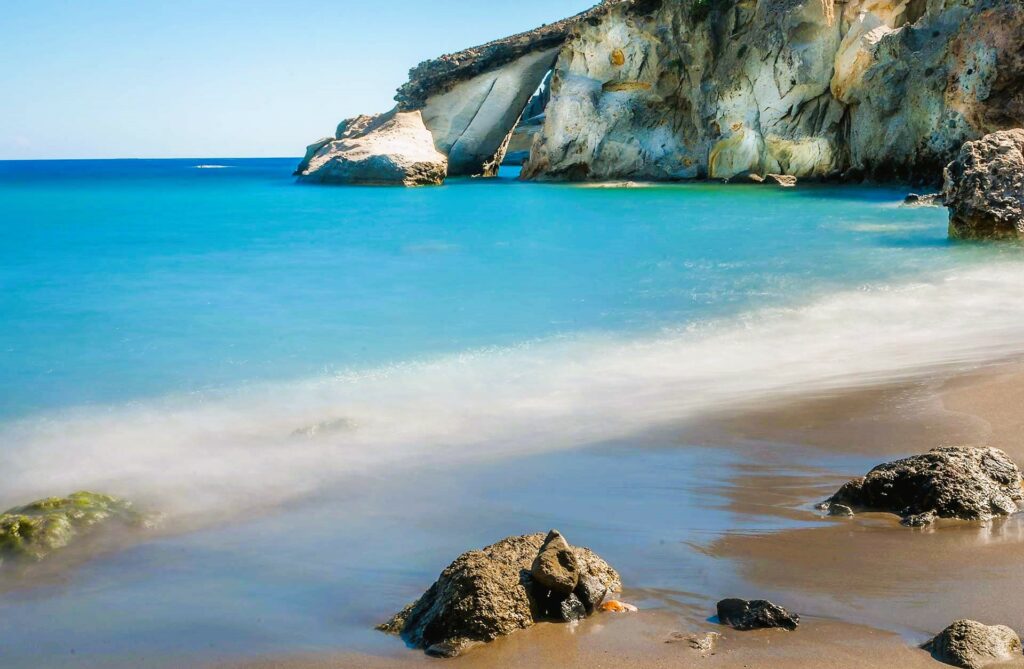 A secluded beach with exceptional beauty that captivates you with its vibrant green waters and dark brown-grey sand.
The rugged beauty of the landscape offers a feast for the senses. It is a small, stunning cove surrounded by towering white cliffs, sparkling blue waters, and captivating caves ready to be explored.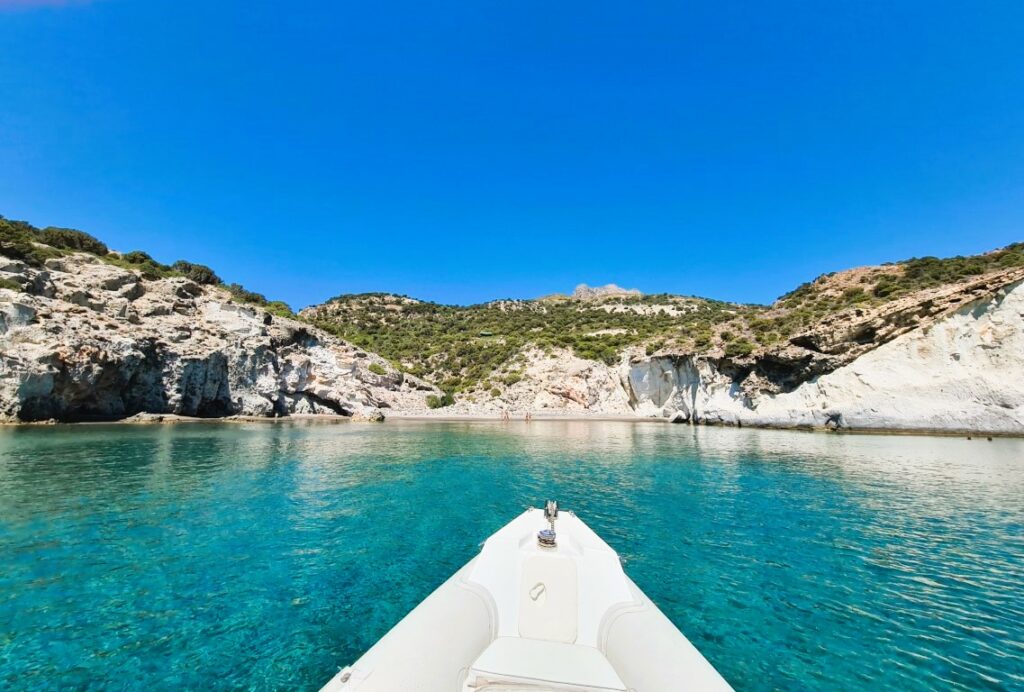 The standout aspect of this beach is the arch-like rock formation separating the sea and the shore on the right side. Behind it are several intimate and secluded beaches, each able to comfortably accommodate just two people.
#5 – Sikia
The Sikia cave on the western side of Milos, north of Kleftiko, is a remarkable natural landmark. Its name, "Sikia," in Greek means Fig tree, and it was named after the fig tree near its roof.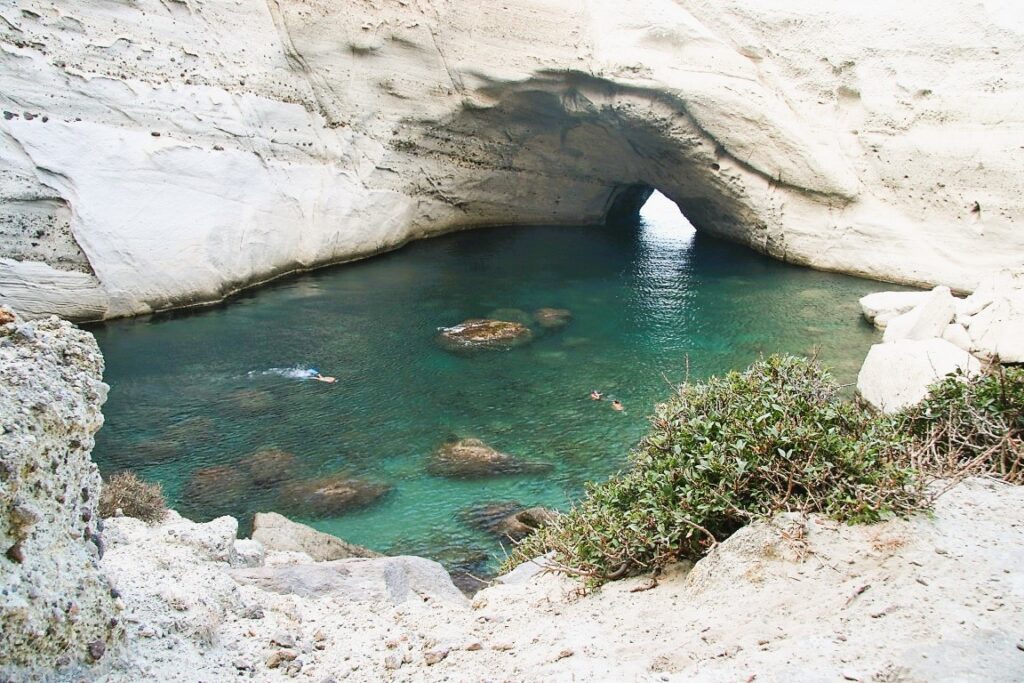 Sikia can only be accessed by boat and is among the largest and most stunning caves on Milos. A significant portion of its roof has likely caved in due to an earthquake, resulting in a round, open skylight that lets in sunbeams and illuminates the interior.
The cave's walls reflect the turquoise color of the water, giving it its other names: the Emerald or Blue Cave.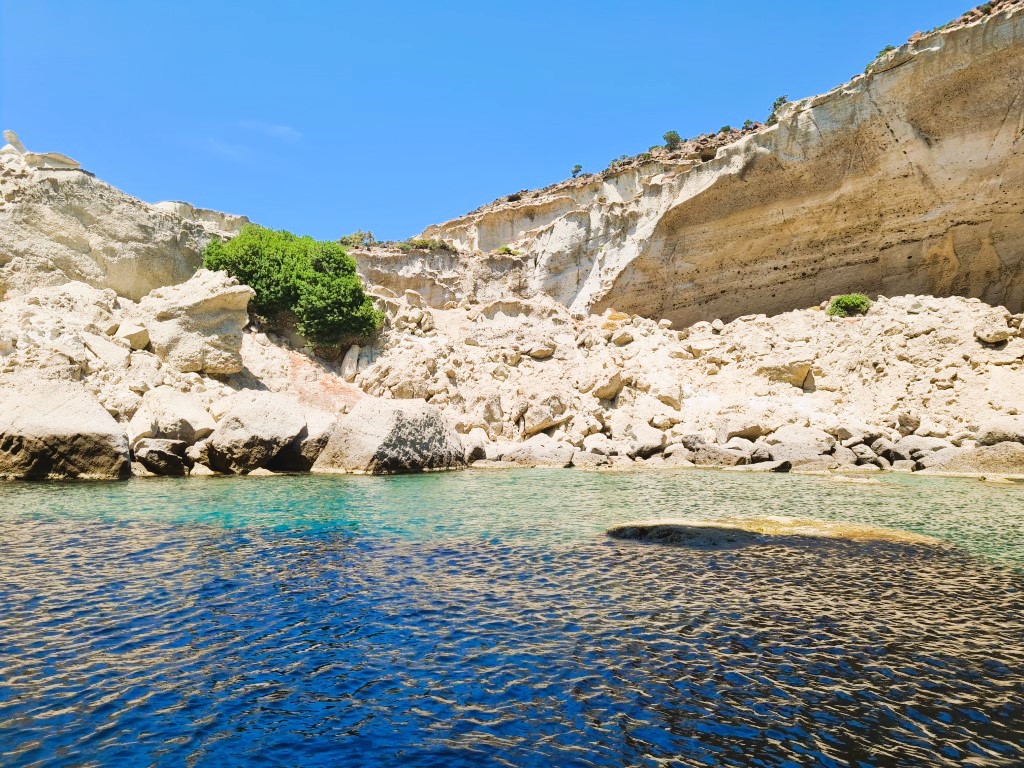 At the far-right end of the cave, there is a tiny beach with pebbles.
---
Relevant links: