Renting a boat in Greece with Captain? Meet Riris!
A La Mer offers you the opportunity to rent a boat in Greece with a captain, from Milos Island.
Hello, my name is Theodore and I am the owner and one of A La Mer's – Milos boat rentals boat skippers. People in Sifnos refer to me as Riris, my childhood nickname. Sifnos has been my summer home my whole life. I want to share my knowledge and guide you through Sifnos Island, in this "About Sifnos" article. Although I am limited to staying in Sifnos for 6 months each year, from April to October, I never seem to tire of the island; there are always new things to discover.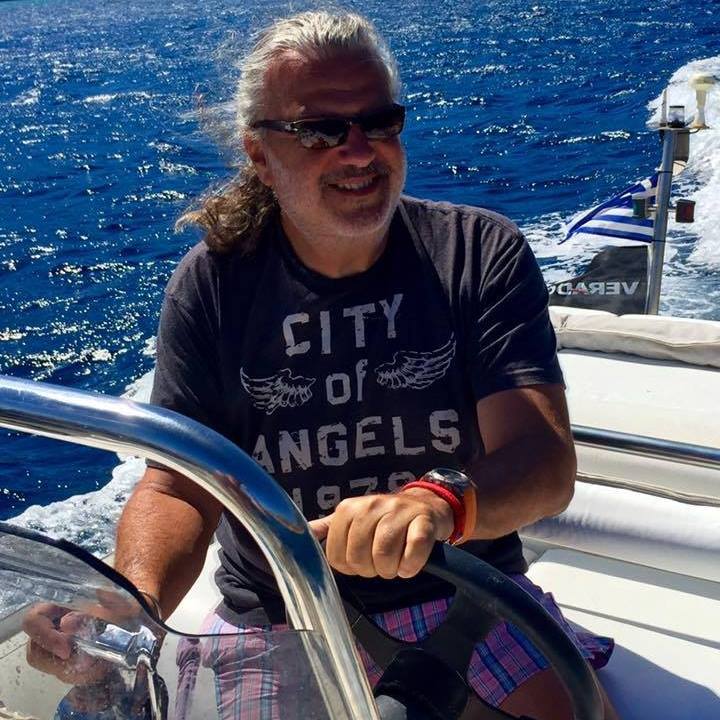 I was raised near the sea. My dad hand-built a small boat named "Frini" in the 1960s, and would navigate the waters of Sifnos island using a tiny 2.5 horsepower Seagull outboard motor.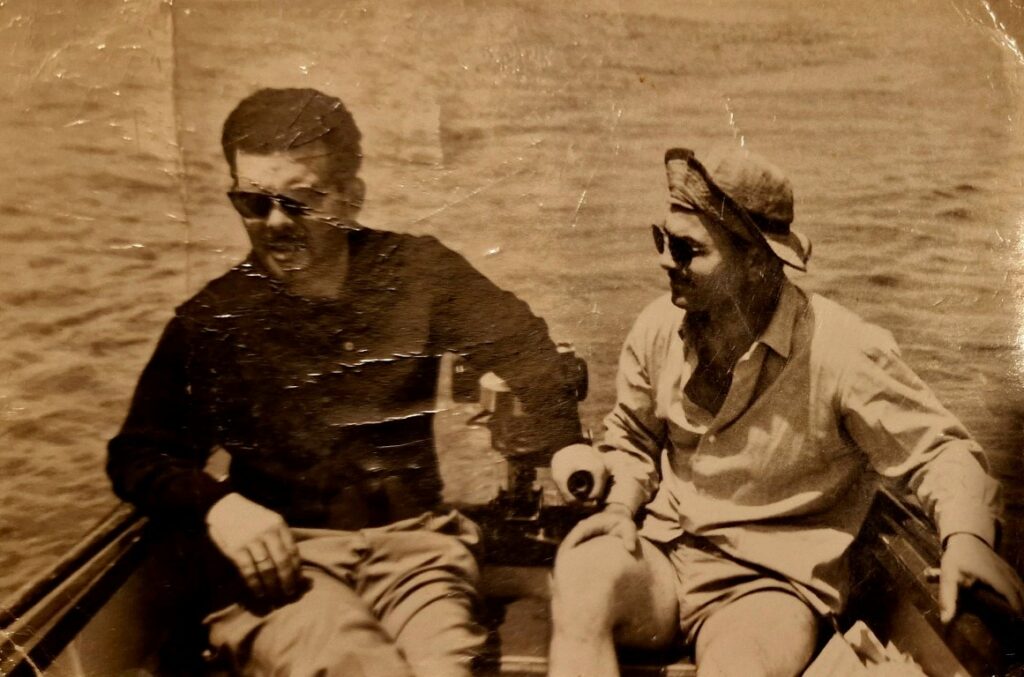 While earning my computer science degree in Chicago, USA, I supported myself by working as a club DJ.
Despite my travels, I always returned to Sifnos for summers. Upon receiving my diploma and moving back to Greece in 1990, my first purchase was a 4.3 meter Sillinger inflatable boat powered by a 28.5 horsepower Yamaha outboard.
I used this to discover the nearby islands.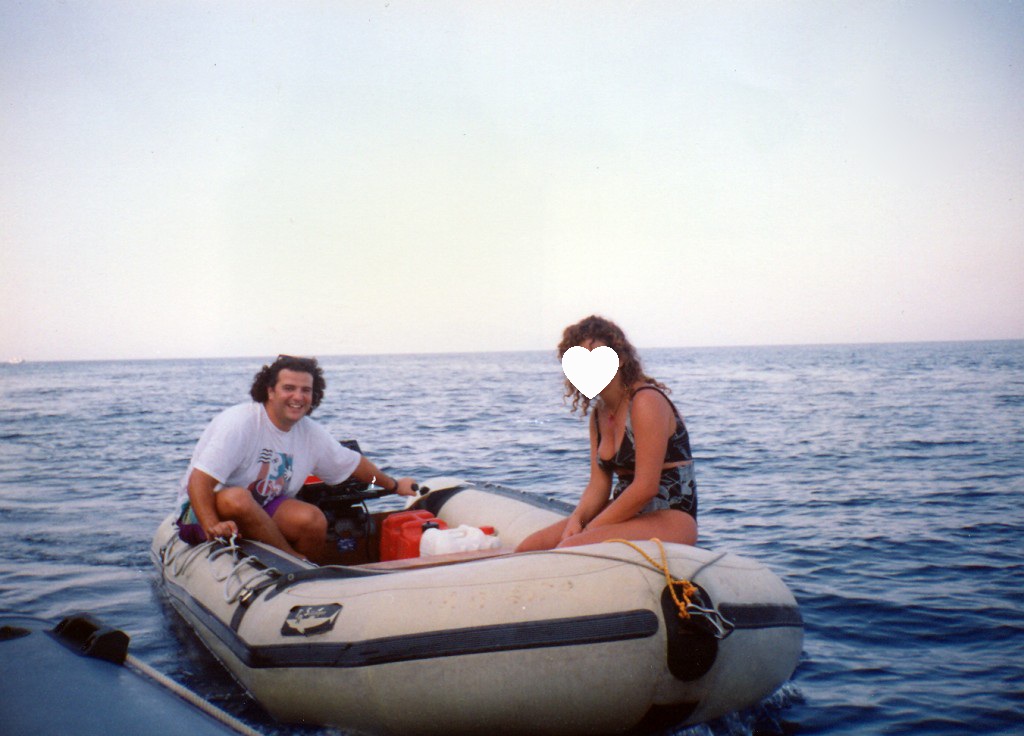 My first love was the sea and my second was music. In 1999, I founded RadioActive in Sifnos, a radio station that broadcasts in the FM spectrum at 91.30 MHz, reaching all of the Cycladic islands and streaming online to thousands of listeners worldwide.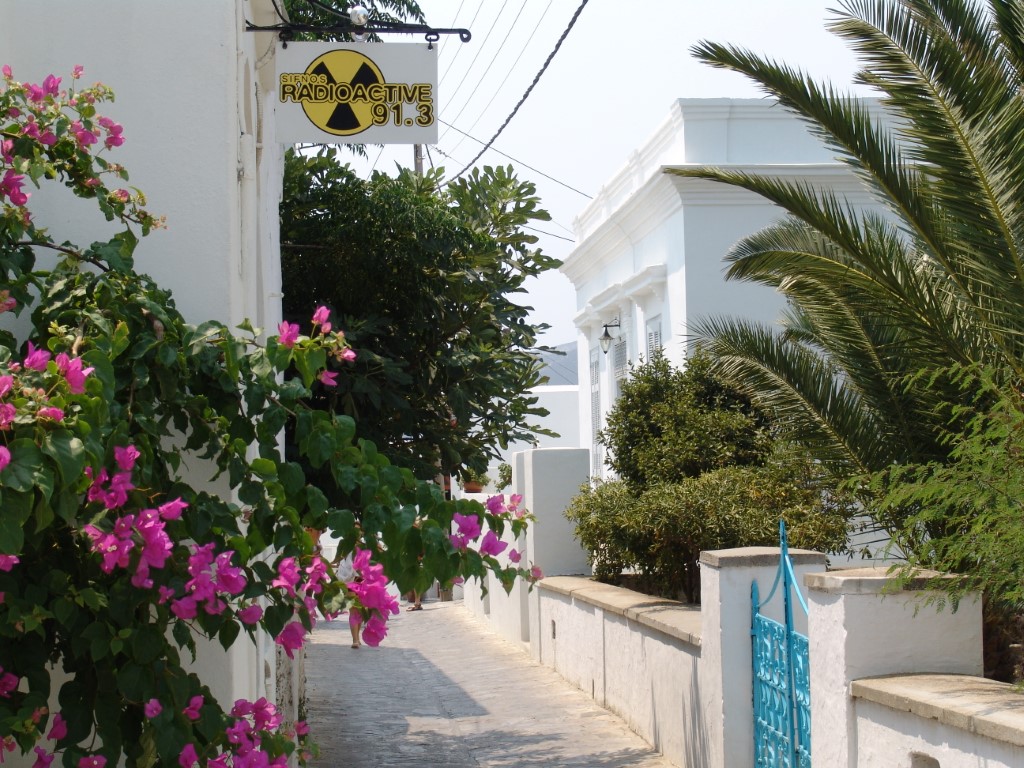 Renting a Boat with Captain/Skipper in Milos
Inspired by these travels, I established A La Mer in 2016, to share my adventures with others. We offer unforgettable private cruises or the option to rent a boat, giving you the freedom to explore the clear waters of stunning islands such as Sifnos, Mykonos, Paros, Milos, Antiparos, Koufonissia, Poliegos, Kimolos, and Folegandros.
We know the perfect spots to witness stunning sunsets and where to find seaside taverns offering delicious traditional cuisine.
Discover hidden sea caves and secluded beaches accessible only by boat.
As a food lover, I have over the years, discovered numerous seaside food destinations serving delectable Mediterranean cuisine across the Cycladic islands.
I have formed close relationships with the owners and chefs of these restaurants, and now, lunch is a much-anticipated aspect of the A La Mer – Milos Boat Rentals tours.
We can take you to Pericles' restaurant "Medusa" in Milos, renowned for serving the best octopus, or to "Kyma" in Kimolos for the finest calamari risotto.
There's nothing like good food to bring people together, especially in some of the most beautiful places on earth.